Micro Volunteering with the British American Project (BAP)
On Saturday 9th November, SVC welcomed three groups of volunteers from the British American Project (BAP) to partake in some micro-volunteering opportunities across Cardiff.
SVC is an independent charity established by Cardiff University students in the 1970's. Our mission is to enhance the lives of vulnerable or disadvantaged groups in Cardiff. This is achieved through the delivery of our 30+ volunteering projects.
BAP is a transatlantic network of over 1,200 pioneers and opinion-formers, from journalists to scientists, musicians to politicians, CEOs, artists, actors, and activists, among countless other diverse professions. Each year, 20 - 24 individuals from both America and Great Britain are personally selected to join the Fellowship, for their unique point of view and potential to change the world.
BAP was established in 1985 to help maintain and enrich the long-standing relationship between Britain and the United States. It operates on a not-for-profit basis, funded through its membership and with support from corporate partners.The highlight of the BAP annual calendar is a four-day conference, hosted alternately in a US and UK city. This year, the annual conference was held in Cardiff. Wales was the first Fair Trade Nation and first nation in the world to legislate for the UN's Sustainable Development Goals.
During the conference delegates were given the chance to take part in community engagement activities, which is where SVC were able to step in.
SVC were asked to organise opportunities for the BAP delegates that would leave a positive footprint on the Cardiff community.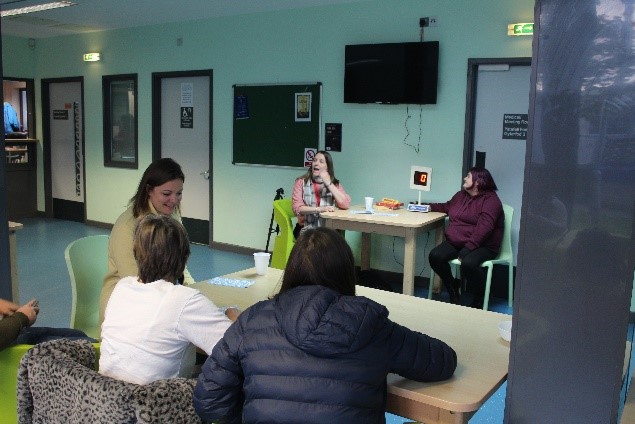 A visit and bingo session at the Huggard Centre
The Huggard Centre is Wales's leading centre for people who are sleeping rough. Their Day Centre and Hostel are open every single day of the year. For over 30 years, anyone seeking help and refuge from the streets can visit for food and a safe, warm place to stay. The Centre focuses on giving people who are homeless the support they need to rebuild their lives.
SVC organised for the BAP delegates to visit the Centre to find out more about the support they provide. This was followed by an afternoon bingo session, where the delegates met some of our homeless community, and shared stories and views on society.
Newcomer to BAP and first-time visitor to Cardiff Sophie Brendel (Head of Audiences, Victoria & Albert Museum) said: "The visit to the Huggard has made me think about how to make the museum more open, and accessible, to the broader community". "It has made me think about undertaking some volunteering in my own time".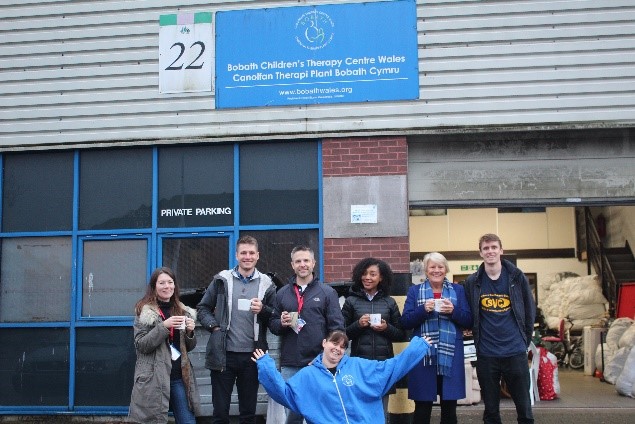 Support at Bobath Warehouse
Bobath Children's Therapy Centre Wales provides physiotherapy, occupational therapy and speech and language therapy to children all over Wales who have cerebral palsy. Bobath therapists work together as a team to give each child the skills to explore their world, communicate their needs, maximise their potential and improve their quality of life.
Bobath focus on the ability and not the disability.
To run the Centre costs 1.8 million per year, 80% of which is fundraised. Bobath gratefully receives second-hand donations for resale in their charity shops. These donations are held and sorted at their warehouse - which is where we put the BAP delegates to work; an afternoon of team-work, sorting through donated clothing, toys and furniture.
Barbara Stephenson (President of the American Foreign Service Association) said: "Of all the visits I've made as a member of the project I can't remember a warmer, more exuberant and heartfelt welcome". She continued by saying: "It's been so fun, and it's such a good idea that we shouldn't just be a cruise that comes and goes, but that we should leave a mark and help the community. It's gratifying to have been a part of it."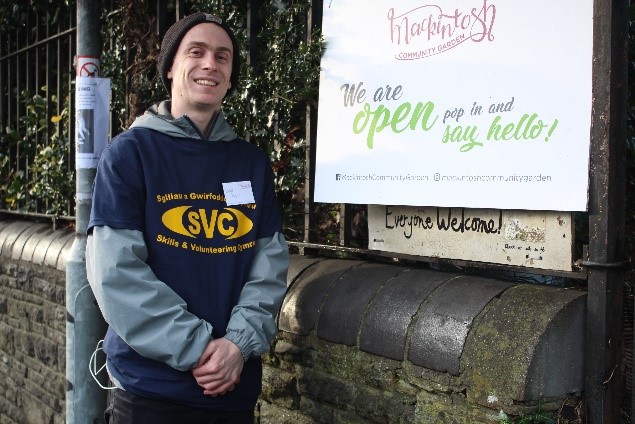 Craft-making at Mackintosh Community Garden
The Mackintosh Community Garden is a locally-run green space in the heart of the Roath region of Cardiff, tucked away on Arran Street, behind the Mackintosh Bowling Green.
A small dedicated group of community volunteers act as caretakers of the garden, with many other local residents visiting on Saturday afternoons to help with planting, sowing, and general maintenance throughout the year. The garden provides a social space for locals of all ages and backgrounds to meet and come together and enjoy a welcoming and creative playground for children and families.
During their visit, the BAP delegates were met by the community volunteers and given a tour of the garden before joining in with craft-making workshops in the polytunnel. The visit provided a chance for the delegates to discover more about local initiatives in Cardiff, whilst also opening up conversations about how we can support sustainable, community-led spaces in the modern city environment.
Moogega Stricker (Planetary Protection Lead, Mars 2020 Mission NASA Jet Propulsion Laboratory Glendale, CA), on reflection on the afternoon said: "All of these activities allow each delegate to be invested in Cardiff, and when we leave we'll carry a piece of it back with us."
For more information about the charities featured in this article please visit:
www.facebook.com/MackintoshCommunityGarden