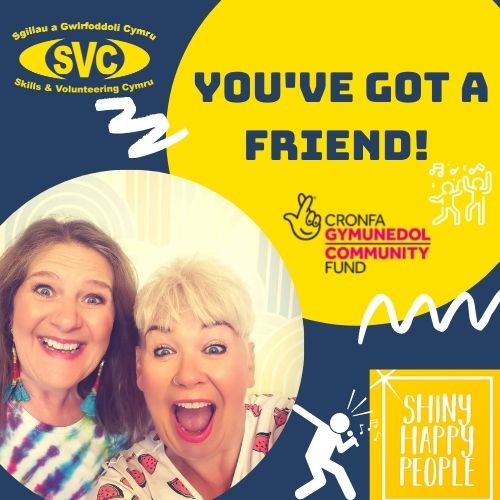 Who: Anyone aged 18+
Where: Rhondda Cynon Taf (RCT)
When: Wednesday Morning
Contacts:
You've Got A Friend is a wonderful social club, allowing participants to sing and dance with friends old and new. The sessions are led by Kate and Stef (also known as Shiny Happy People), who are trained vocal professionals. It is a kind space for young adults with disabilities to build friendships, lift spirits and learn new skills!
The sessions take place weekly on Wednesdays and run from 10:30am-12pm, in a community centre in Church Village, participants attend both in-person and via zoom.
There are currently two roles available:
       1. In-person volunteering
We are looking for one or two volunteers to support Kate and Stef to deliver these sessions. Your role would include meeting and greeting participants upon arrival, taking a register of attendance, ensuring everyone is comfortable and supporting people to join in. This role would suit someone with an outgoing nature who enjoys working with different groups of our community.
Volunteers would be welcome to travel from Cardiff with the SVC staff member, we leave at 10am, and return by 1pm. Alternatively SVC will cover travel expenses for those traveling from RCT or the Vale of Glamorgan.
     2.  Zoom volunteering
These sessions are delivered both in person, but additionally via zoom, to encourage our participants from across the Country to engage. We are seeking a volunteer to help with the digital side of letting participants onto the sessions, taking an attendance of digital participants, recording song choices, and having a chat with the group.
Through this excellent opportunity you can develop transferable skills. Such as, leadership and communication.
 For any questions please contact Info@svcymru.org, or to apply: Apply to Volunteer | SVC (svcymru.org).