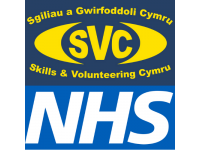 NHS Placement Scheme - General Volunteer
*** The applications for General Volunteers will open on Monday 25th September 2023 and close on Monday 9th October. Please note we reserve the right to close this opportunity early if sufficient applications are received ***
The NHS Placement Scheme is a valuable opportunity to befriend and facilitate activities for adults with mental health-related conditions in clinical and residential settings across Cardiff and the Vale of Glamorgan. SVC are offering placements across 11 local NHS mental health wards. Placements will include experience in acute mental health, dementia and older people and rehabilitation and recovery.
Volunteer Role:
Involvement in a highly-rewarding scheme:
Volunteers will have the chance to support vulnerable people, develop transferable skills and gain unique clinical mental health experience and knowledge within this sector.

The skills that volunteers will achieve include communication, interpersonal, initiative, teamwork, problem-solving and empathy.

This opportunity is ideal for anyone interested in the field of mental health, or someone who enjoys working closely with people. This scheme might be of particular interest to anyone pursuing a career in Mental Health, Occupational Therapy, Support Work, Social Work, Nursing, Neuroscience or Medicine. Anyone can apply but you must be a good listener and willing to initiate conversations and activities.
Facilitate fun, stimulating and rewarding activities for inpatients (beneficiaries) in communal rooms on NHS mental health wards:
Volunteers offer social and emotional enrichment for beneficiaries through activities, such as baking, arts and crafts, quizzes or games evenings. Through conversation, volunteers also provide compassionate support and amity.

Volunteers will never volunteer alone and will always attend the sessions in pairs or small groups.
Please be aware that this is a challenging environment, supporting adults with mental health conditions can be emotional and distressing at times; SVC are here to support you but please consider this aspect before applying for this project. Volunteers do not need to have previous experience of being on an Acute Mental Health ward, but suitable volunteers will need to be tough-skinned and have an awareness of risk and their own level of ability.
Time Commitment and Location:
This project will run throughout the academic year 23/24, volunteers will be expected to commit to volunteering for the duration of this. Successful applicants are expected to make a weekly commitment of 2 hours of volunteering on this scheme. Commitment to the scheme is essential as the volunteers are valued by the beneficiaries, the other volunteers and the staff team.

Successful applicants will be allocated to a placement at a local hospital by the Project Coordinator.

Times, dates and location will be discussed and negotiated prior to beginning the placement.
Volunteers will receive training, support, travel expenses, and invaluable experience for their CV.
For more information please contact M.Bromley@SVCymru.org